| | |
| --- | --- |
| Sunday | |
| Monday | |
| Tuesday | |
| Wednesday | |
| Thursday | |
| Friday | |
| Saturday | |
Edible Arrangements® has a fresh fruit bouquet to make any occasion special - from birthdays, anniversaries and congratulations to business events and client gifts. Our bouquets are made fresh with premium fruit arranged in a variety of stunning displays.

Customers can visit one of our 1058 stores worldwide, order online or via phone. Each bouquet can be complemented with chocolate dipped fruit including dipped strawberries, dipped pineapple daisies, dipped banana slices, dipped Granny Smith apple wedges and more!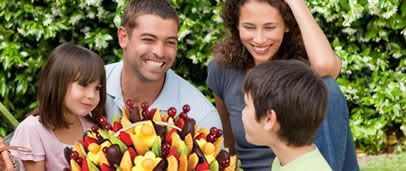 Make every occasion special with Edible Arrangements®.
The Edible Arrangements Mission Statement
At Edible Arrangements our mission is simply to WOW you! We live by this mission statement every day to ensure that we WOW each and every Edible Arrangements customer:
Presentation
When you give a truly heartfelt gift, presentation is everything. We at Edible Arrangements know that you want your gift to leave a lasting and positive impression on the recipient, and we are here to deliver that lasting impression right to your recipient. We create incredible fruit arrangements and chocolate dipped fruit concepts that both look and taste spectacular, so that every product you choose is sure to delight. In our stores, our Fruit Experts craft each arrangement with care, because they understand exactly what it takes to make your special occasion WOW-worthy.
Quality
Our mouth-watering chocolate dipped fruit and creatively designed fresh fruit arrangements are always fresh, and always delicious. Why? Because We Know Fruit! (You might even say we have a healthy obsession with it.) And don't ever worry about preservatives or additives because nothing is ever added to any of our fruit.
We require that every piece of produce we use meets the highest standards of quality, including size, appearance, freshness and more. And because WE insist on top-quality fruit, we can promise sweet satisfaction to YOU, our customers. Every bite of our product will leave you saying: WOW… guaranteed.
Customer Service
At Edible Arrangements, happiness is always in season. And now it's available 7 days a week. Every day is a special occasion for someone, somewhere, and we are committed to being there for you whenever you need us. Our hundreds of retail stores are open 7 days a week, offering same day delivery every day. Our new extended hours mean we're open even later: until 7pm on weekdays, 5pm Saturdays and we're open on Sundays too! (WOW!)
Convenience
1058 Edible Arrangements stores and growing!
There are Edible Arrangements store locations throughout the world, so you can get your fresh fruit fix everywhere from Dallas to Dubai, and from Hawaii to Hong Kong. Find a Store.
We want all of our stores to be fun, fresh, and inviting – just like our products! With beautiful décor and a friendly atmosphere customers can stop in any time to sample our chocolate dipped fruit*, or just to get the juiciest fruit news direct from the Fruit Experts. You can also visit one of our Edible Arrangements-Frutation locations to enjoy the all natural pleasures of our fresh fruit beverages and fresh fruit salads, too.
Edible Arrangements stores are always popping up in new places, but even if there's not a store in your area yet, we've still got you (chocolate) covered! Our DippedFruit.com shipping centers, located in select Edible Arrangements stores across the U.S., can deliver The Best Shipped Fruit, Period directly to your door, no matter where you are.**
*Samples available may vary by store. Stores may limit one per customer.
**Shipping may not be available in all areas at this time.
Is this your business?
Promote your business through our innovative Marketplace system! It's free to sign up!